Large Hand & Power Tool Auction
---
This is a large hand and power tools auction one of three auctions, 70% of the tools are brand-new and high quality brand names. Mark your calendars and don't miss this fantastic tool auction.
Where:
Wileyville Auction House
Wileyville,WV 26581, WV
When:

November 20, 2021

Where:

Wileyville Auction House
Wileyville,WV 26581, WV
Auction starts at 10:00am
Payment methods available at this auction:
Sorry, No Credit Cards
Auction Contents
---
Some items to be sold include:
Tools & shop items: multiple sets of 3/4, 1/2, 3/8 ,1/4 socket sets New, multiple sets of open end box Wrenches (new), electrical testing equipment, specialty tools, sledge wrenches, sledgehammers, toolboxes, metric tools, Milwaukee ½ right-angle drill (new) lots machinist tools, large assortments of screwdrivers, hammers, tap and die sets, drill bits, power cut off saw, chopsaw, new rigid pipe wrenches, vice grips, crescent wrenches large assortment of small hand tools, rigid pipe stands, lots of welding supplies to include new torches, log chains, several new ratchet chain binders, assortment of steel, straps, chokers, C clamps, extension cords, thousands of new bolts nuts and fasteners of all types, this is just a small listing of a very large tool auction.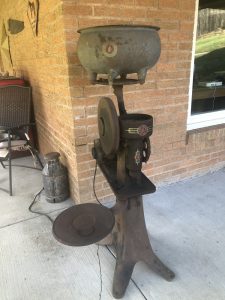 Auction Location
---
Address:
15723 Mountaineer Hwy., Wileyville,WV 26581, WV
Directions:
From Rt.2 in New Martinsville turn onto Rt.7 E. (Mountaineer highway) go approximately 16 miles auction house will be on the left.
Terrell D. Cozart
Auctioneer (Lic#1042) / Realtor
For more information or viewing and inspection of this property, please Contact Us.
We accept Cash or Check with proper I.D. Out of state checks must be pre-approved by Cozart Auction Services.
Information contained herein is believed to be correct to the best of the auctioneer/agent knowledge, but is subject to inspection and verification by all parties relying on it. Sellers, their representatives and Auctioneer/agent shall not be liable for inaccuracies, errors or omissions.