Antiques & Collectibles
---
This is fantastic Antiques & Collectibles auction mark your calendars and don't miss this Auction.
Where:
21411 Energy Hwy
New Martinsville, WV
When:

September 23, 2023

Where:

21411 Energy Hwy
New Martinsville, WV
Auction starts at 10:00am
Payment methods available at this auction:
Sorry, No Credit Cards
Auction Contents
---
Some items to be sold include:
Auctioneer note: This auction contains some very rare and unique antiques and collectibles.
This auction contains some fine antiques and collectibles Lots of signage to include Gas & Oil related items Coke & Pepsi signs and display racks, Cigarette & beer signage. many board games from the 60 & 70. Crocks, pottery, glassware, vintage baby strollers, large pump organ, tools, vintage 5 cent horse racing gambling machine, old pictures, old store scales, advertising boxes, nice table lamps, child's oak rocker, lots of Elvis Presley items, old cash register, furniture, vintage metal trucks & cars, Nascar collectibles, several boxes of baseball cards, butter churn, vintage Hercules bicycle, lots of decanter's old cookware, two rocking butter churns (rare), vintage furniture, Lots of advertising pieces, enterprise lard press, old coke & Pepsi bottles and boxes, Roseville pottery, Several vintage toys buddy-L trucks and more, Childs Roy Rogers outfit, Rare collection of  cast iron banks, Still going though buildings, this is a small list of things that will auction off to the highest bidder.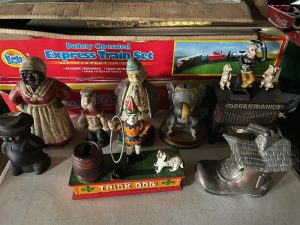 Auction Location
---
Address:
21411 Energy Hwy , New Martinsville, WV
Directions:
just one mile south of New Martinsville, WV on Rt. 2 Auction is on the left.
Terrell D. Cozart
Auctioneer (Lic#1042) / Realtor
For more information or viewing and inspection of this property, please Contact Us.
We accept Cash or Check with proper I.D. Out of state checks must be pre-approved by Cozart Auction Services.
Information contained herein is believed to be correct to the best of the auctioneer/agent knowledge, but is subject to inspection and verification by all parties relying on it. Sellers, their representatives and Auctioneer/agent shall not be liable for inaccuracies, errors or omissions.